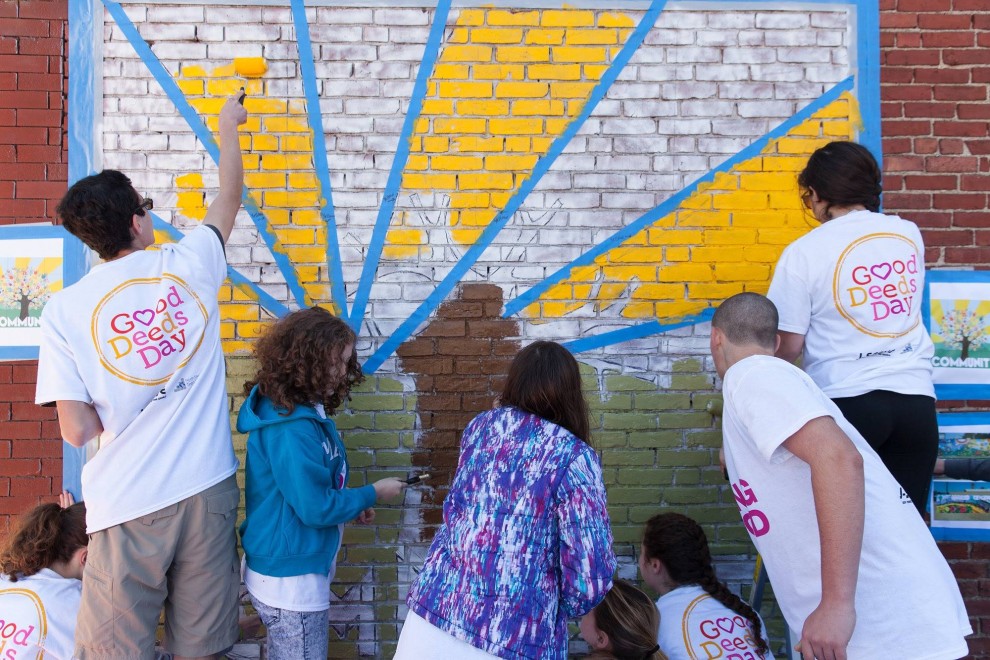 It's no secret that it can be a struggle to keep teens involved in the Jewish community. B'nai mitzvah ceremonies act as de facto graduation ceremonies, and these newly minted adults are often given the responsibility of choosing their own involvement with Judaism. In a packed schedule filled with college resume-building activities, it's tempting to see Judaism as the one thing that can get put aside.
A 2011 study of Jewish teens in New York conducted by the Cohen Center for Modern Jewish Studies at Brandeis showed that fewer than half of those surveyed participated in some form of organized Jewish activity, and more than a third of the teens weren't being reached by the Jewish community at all. And most of the teens didn't associate their desire to make the world a better place or their personal and societal sense of right and wrong with Jewish teachings.
The Greater Boston Jewish community was no different. As Averi Kaplowitch, a high school student from Marblehead, says, "I am one of the only teens I know who is currently involved in the Jewish community. It can feel very isolating."
Meeting teens where they are
To address this alarming trend the Jewish Teen Initiative (JTI), then the North Shore Teen Initiative, was founded with the support of the Jim Joseph Foundation. After spending a year listening to the North Shore community talk about how teens were engaging with the opportunities available, Executive Director Adam Smith saw what needed to be done.
"JTI's mission is to help remove the barriers and open doorways — it's designed to meet teens where they are. Our goal is to work alongside synagogues, agencies, and community partners to offer a diverse menu of opportunities to engage teens in Jewish life that match their interests and schedules — regardless of label, affiliation, or membership."
Over the last eight years, the Initiative has done just that. By coordinating with community organizations to leverage existing events in addition to their own programs, JTI has expanded opportunities without competing with other agencies. More than 900 teens from 23 municipalities on the North Shore have gotten involved in meaningful Jewish growth and learning experiences including service learning and social justice action trips.
Rabbi David Cohen-Henriquez of Temple Sinai in Marblehead has seen how the teen community on the North Shore has changed in the last few years. "It is impressive to have witnessed the fast growth and strength of JTI. What we have here is not only the new model of teen programming, but perhaps a new way synagogues and other Jewish institutions will operate in order to help Jews connect with each other and with the topics of interest in their search for meaning and identity."
Building on success
Even with JTI's success, Smith knew that they could be reaching even more teens. "We have long since recognized that the best people to connect to teens are other teens," so JTI began a Peer Leadership Fellows (PLF) program.
JTI partnered with Hillel International to adapt a model they use on college campuses. The program strengthens student connections and boosts participation by providing sophomore and junior Fellows with a stipend and training in leadership, communication, and community organizing. It's the first time this model has been used with high schoolers.
"We're engaging the teens to be community connectors — reaching out to their marginally- or under-involved peers, building those relationships and connecting them to opportunities which relate to their interests," says Brett Lubarsky, Associate Director of JTI.
The PLF program is also collaborating with several Jewish organizations, including Brandeis University's Design Lab, to allow the Fellows to work on real-world problems our community is facing. Earlier this year, the North Shore Fellows brainstormed ways to make synagogues more inclusive and accessible so that everyone can participate fully in Jewish life.
Taking it wide
Now, in addition to being a national model for teen engagement, JTI is expanding into Boston's Metrowest community. CJP supported this expansion with grants and research.
"We are incredibly grateful for CJP's support and partnership as we work to pursue our shared goal of engaging teens in meaningful Jewish experiences," says Smith. "Without CJP we wouldn't be able to bring our model of community collaboration and outreach to Metrowest."
Already, JTI has collaborated with 13 synagogues, 26 Jewish agencies, and countless community leaders in Metrowest. The first class of Metrowest Fellows have already begun their training, and Lubarsky is excited about the future of the program in the area.
"Our Metrowest Peer Leadership Fellows, representing seven different schools, will continue strengthening our community and serving as catalysts for enhanced teen connection to Jewish life," says Lubarsky.
The Fellows, both from the North Shore and from Metrowest, are expected to connect with more than 800 teens at least once a month — most of them would not otherwise be reached by the Jewish community.
"It's important for us to connect and be the voice of the future," says Jacob Abisso, a Fellow and a student at Gann Academy. "It has been awesome to be part of something so big and to feel the momentum build."
As JTI continues to grow, Rabbi David Meyer of Temple Emanu-El in Marblehead sees its accomplishments. "JTI has certainly made a large impact and has lived up to our hopes."
JTI is currently accepting applications for the second year of the PLF on the North Shore. To apply, or to find out more about JTI programming on the North Shore or in Metrowest, please visit jewishteeninitiative.org.