February is Jewish Disability Awareness and Inclusion Month (JDAIM)— a great time to tour one of the training sites for the Transitions to Work program that provides employment training for adults with disabilities. Transitions to Work offers six training sessions annually at employer training partner sites. These sites include CVS Health, Beth Israel Deaconess Medical Center, Brigham and Women's Hospital, NewBridge on the Charles, and Whole Foods. Classes are taught by instructors from Jewish Vocational Service.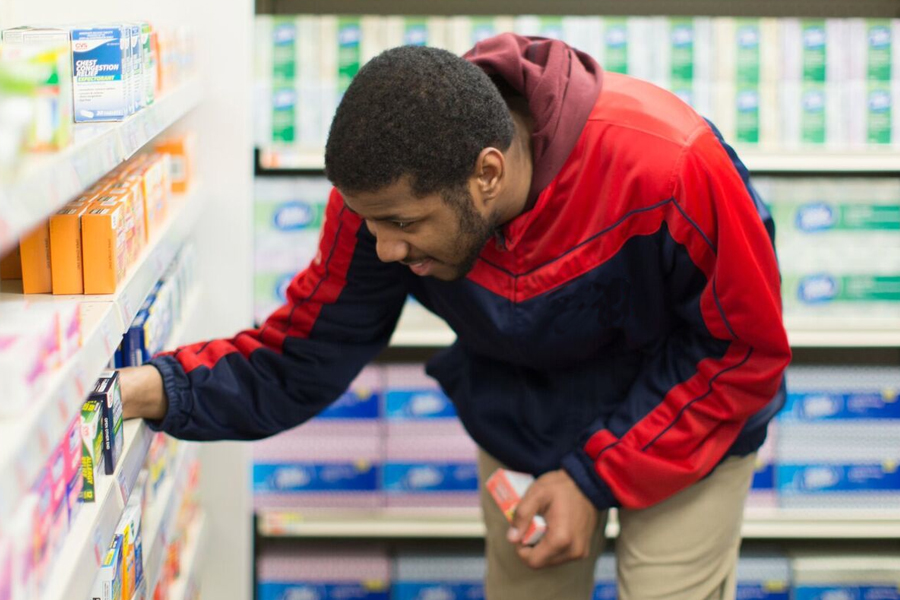 A mock store with real training.
The Transitions to Work training program at CVS is held at the Regional Learning Center, a mock CVS store. The participants are adults with disabilities who receive intensive skills training in order to earn meaningful employment following graduation.
We met Luis, Charles and Stephanie—three up-and-coming trainees at the mock CVS store located within Jewish Vocational Service's brand new facility in downtown Boston.

With their class set to graduate on February 11, 2016, they were happy about what they've learned, and excited for what comes next. Here's what they had to say about their experience.
Luis Sosa is a student at McKinley South End Academy. His advisor there recommended Transitions to Work (TTW) as a way to gain the skills and experience he'll need to get a job after graduation. He says one of the most important things that the TTW experience gives him is confidence. When asked what he could offer an employer, he had an answer ready.
"My confidence is up. I do well with attendance. I don't slack off. I'm nice, I don't disrespect anyone. I'm patient. I'm honest. I learn fast."
Stephanie Lewis is a graduate of a certificate program at Lesley University. She applied to TTW in order to build her skills and increase her chances of getting hired.
Stephanie says she wants to work because, "I love being around people and I love taking initiative. I like greeting customers every day. I'm a hard, hard worker. I show a lot of dedication. Because of college I already had multiple internships...I haven't missed a day of work."
Charles Payne said he'd almost given up on finding a job when the TTW opportunity came along.
"It's been really helpful to me. I'm getting so much more confident over the course of the seven weeks so far. I'm busy with my time instead of lying around and wallowing in self-pity. More importantly, the staff is really nice, they're supportive, very helpful. It's a boost. It's empowering to know that I'm capable, I can be confident and I can do this if I want. I'm on a path."
In 2015, 36 of 48 Transitions to Work graduates found paying jobs.
One aspect that sets TTW apart from other training programs for adults with disabilities is the emphasis on helping graduates find paid employment, rather than volunteer or internship positions.
But money isn't everything.
When asked why he wants to work, Luis says, "I want to feel like I have a purpose in life. I don't want to stay in the house all the time and have nothing to do and nobody to talk to. I want to be able to gain experience and be able to talk about what everybody else is talking about."
Participants learn more than just how do their jobs—they learn how to manage the challenges and opportunities that can arise in the workplace.
When asked what his biggest challenge is right now, Charles said, "During the program, because of having my confidence boosted, the world is opening up to me. I feel I could do anything I want, and while that may or may not be true, it still feels like it. So I don't feel like there's as much of a challenge. It's just that I actually have to work at something; I'm putting more effort into it."
Graduation day!
We are pleased to report that on Thursday, February 11, Luis, Charles, Stephanie and the rest of their Transitions to Work class graduated from the program. Luis will continue his high school studies. Charles has already interviewed with two CVS stores, and has an upcoming interview with the Kraft Company at Gillette Stadium. Stephanie is currently job searching with the assistance of Jewish Vocational Service.
Partnership makes it possible.
The Ruderman Family Foundation has a national reputation for being at the leading edge of advocating for the inclusion of people with disabilities throughout the Jewish community. Their thought leadership and partnership with CJP drove the creation of Transitions to Work, and their significant support makes this program possible.

Jewish Vocational Service provides the training while CJP helps employers develop inclusive hiring practices and attract, hire and retain qualified, committed candidates for appropriate employment opportunities.