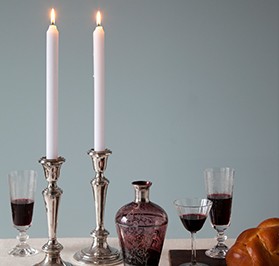 "There's a shocking number of Jewish families who are in financial distress," says Rabbi Laurence Bazer of Temple Beth Sholom in Framingham. "And with winter coming up, this is a very vulnerable time—we didn't want to wait to get the word out about CJP's Anti-Poverty Initiative."
That's why Temple Beth Sholom and Temple Beth Am (also in Framingham) joined forces and held simultaneous Social Justice Shabbat services on Friday, December 4, 2015.
Synagogues are the key to success
Proactive leadership makes synagogues key players in the fight against poverty.
"Synagogues are very trusted identities in the Jewish community and many times they are the first stop for a family in crisis," says Lino Covarrubias, COO of Jewish Family Service of Metrowest (JFS), an agency that partners with CJP to provide emergency assistance and coordinated case management.  "We're working with clergy and temple leadership to provide a holistic approach to helping families in crisis."
At Temple Beth Am, approximately 60 people attended the Social Justice Shabbat, including almost every member of the Executive Committee. "I'm counting on their leadership to spread the word throughout the temple community, to help reach those who are in need," said Cantor Jodi Schechtman.

You are not alone
One of the messages that came through loud and clear at both Shabbat services is that CJP's Anti-Poverty Warmline (1-800-CJP-9500) is a great new resource that simplifies the process of getting help.
Warmline Coordinator Lori Kagan says that callers never need to feel embarrassed. "I tell people they are not alone—that many others have gone through what they are going through. We do a lot of listening—but with no judgement. Our goal is to connect people with the wide range of services the Jewish community provides—with just a phone call."
 "An unbelievable force for good"
Helaine C. knows exactly how difficult that first phone call can be when you are in crisis. She spoke at Temple Beth Sholom's special Shabbat service, sharing her experience of finding herself homeless and unemployed at age 70.
Having worked and supported herself since she was 15, Helaine had to overcome shock and embarrassment in order to reach out for help. Once she did, she found that her social worker at JFS was "an unbelievable force for good," who relentlessly pursued every resource on her behalf, getting her access to emergency food, affordable housing and even donated furniture for her new apartment in a senior housing complex. Today, Helaine works part time and gives back by speaking out and giving courage to those who might be in similar situations.

Getting involved
If you are experiencing a financial crisis, call the Warmline at 1-800-CJP-9500. You'll speak with a compassionate, knowledgeable case manager who can help you access the resources you need. The sooner you call, the more quickly we can help.
 Learn more about CJP's Anti-Poverty Initiative, and download our toolkit to get started.