Shalom Chaverim (hello friends),
Sometimes it feels like the world is more broken with each passing day. These last few weeks have felt that way for many of us, as we've seen the horrific anti-Semitic attack in Pittsburgh, the mass shooting in California, the devastating wildfires in California, and relentless rocket attacks on our brothers and sisters in Israel, which seemed to be on the brink of war.
I had the privilege of visiting Pittsburgh this week as part of a Jewish Federation and Jewish Community Center solidarity "fly-in" to be with our colleagues there and to learn from their experience. Mark Sokoll, CEO of the Leventhal-Sidman JCC Greater Boston, wrote beautifully about our experience and about one of our key takeaways about resiliency and relationships — with people inside, across, and outside our Jewish community. The strength of our professional colleagues in Pittsburgh is remarkable, and the depth of connection they feel to one another and to their tight-knit Squirrel Hill community reminds us why we do the work we do every day.
Sitting in Tree of Life Synagogue felt like bearing witness to a churban, the Hebrew word for "destruction," used in the context of the destruction of the First and Second Temples in Jerusalem, temples that were once the centers of spiritual life for the Jewish People. While Tree of Life sanctuary was not literally on fire, it was as if we were sitting among the ashes. We saw bullet holes in the ritual table where the services are led and on which the Torah is read, and through the aron hakodesh, the ark that houses the Torah scrolls. Pews were removed and tiles torn up so that the first responders could perform the sacred Jewish task of cleaning every drop of the victims' blood. It was, indeed, a ruin — a sanctuary defiled.
For me, this experience was more heavy than hopeful. Yet, I felt blessed to have the opportunity to stand with a grieving community and learn all we can from this tragedy. I do believe that learning in the face of suffering is itself a small form of redemption.*
As I think about that sanctuary and our world on fire these past few weeks, I am reminded of a small moment earlier this week that did bring me hope. I attended the Prizmah Investor Summit with leaders and philanthropists from across North America who came together to envision and strategize about the future of Jewish day schools. Fourteen members of our Greater Boston Jewish community attended, among them pioneers and founders of many of our community's schools.
During the opening plenary, a Torah study about Jewish education, a beloved scholar and teacher, Dr. Erica Brown, asked us to write down a time when we were most inspired by Jewish learning. The first person to raise her hand was a lay leader from our community. "I'll never forget my very first Me'ah class," she answered, referring to the signature, intensive adult learning program that was created here in Boston and has become a model for the rest of the country. She continued (and I paraphrase): "We learned the story of the destruction of the Temple and saw how the rabbis sustained and rebuilt Judaism and the Jewish People even in the face of utter destruction. I felt inspired by our Jewish story and a sense of profound responsibility: When our world is on fire, each of us needs to ask ourselves what we are going to do to rebuild it."
As I listened to her describe that inspirational moment of adult learning and as I think about the impact that she, like so many others, has had on our community, CJP's mission is as clear as ever: building communities of learning and action that strengthen Jewish life and improve the world. Learner-activists build, and we rebuild — that's what our people have been doing for thousands of years. That's what gives me hope.
Shabbat Shalom,
Rabbi Marc Baker
If you'd like to sign up for my biweekly messages, don't forget to sign up here.
* P.S. As we contemplate balancing the importance of a welcoming Jewish community with the physical safety of our spaces here in Greater Boston, I encourage our partner organizations, synagogues and others in the community with an interest in security to attend a session of "Security in Our Community." These sessions, led by CJP in partnership with the ADL, JCRC, and Synagogue Council of Massachusetts, will address critical security needs and vulnerabilities. Sessions begin this month and will be held throughout Greater Boston.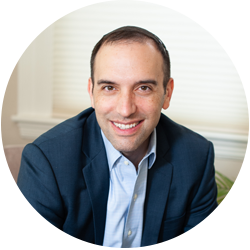 About the Author
CJP President and CEO Rabbi Marc Baker is an educator, writer, and leadership mentor who is devoting his life to Jewish learning and building Jewish communities.