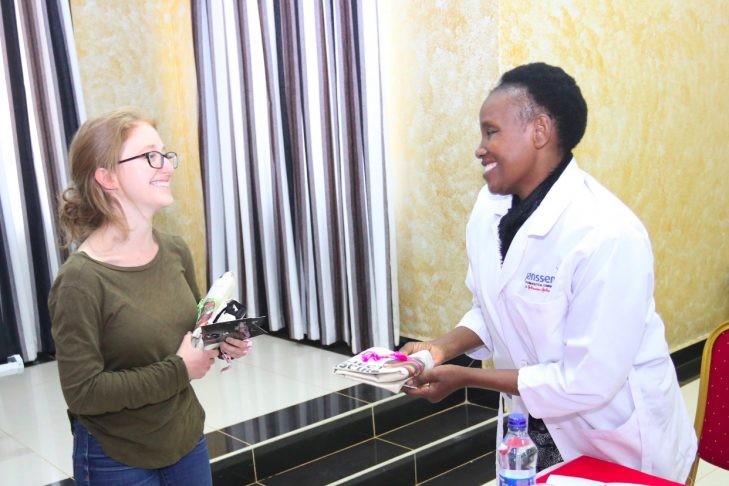 By: Hallie Bregman
Three days ago, I left my 18-month-old daughter and dog to depart on a journey of a lifetime. It was hard to leave, hard to miss important moments at home and hard to travel more than 24 hours to get to a strange new place. It's day two and I'm still tired, still miss home, but am filled with gratitude and the joy of new friends.
Today, we made the journey to Chuka, a town northeast of Nairobi, to visit the eye clinic at Chuka Hospital. The clinic was made possible thanks to the talent of local Kenyans and the support of Israeli NGO Eye From Zion. The drive was long but we spent the time connecting and strengthening relationships with our fellow participants. We laughed together as we made our way to a rest stop at the "Nice Market," where we stretched our legs and picked up new snacks, keen to try Kenyan treats.
When we arrived, accompanied by representatives from the Israeli embassy, we were greeted by drummers from Kenya's Meru tribe, who impressed us with their music and dancing. Many local officials were on hand to welcome us as guests and friends. In just two days, it has become apparent how close the bonds are between Israel and Kenya.
The Chuka Eye Clinic began its relationship with Eye From Zion thanks to the son of a hospital employee who works for Google in east Africa and partners closely with Google's Tel Aviv office. It was a reminder of how small the world is and how easy it is to make connections that can span continents.
After learning about the clinic, Israelis from Eye From Zion traveled to Chuka with special ophthalmology equipment and trained local staff in new techniques. We toured the small yet functional clinic and learned about the work they are doing. What struck me most was hearing about the dreams the staff have for the clinic. They have designed plans for a two-story eye clinic to support even more patients and expand their reach to the surrounding communities.
As we prepared to depart, the staff wished us well and spoke passionately about their relationship with Israel and their appreciation for the vibrant partnership between Kenya and Israel. They invited us all to return to Chuka anytime to stay in their homes and enjoy their hospitality. It was a reflection of the strength of relationships between people, countries and strangers, who, in the span of hours, can become rafikis—friends.