Shalom Chaverim (Dear Friends),
I hope your holiday season was meaningful and inspiring. For me, the season of new beginnings has been particularly poignant.
It has been just a few months since I started my new role as President and CEO of CJP. I have learned so much already about the passionate and creative ways that people are creating Jewish communities, strengthening Jewish life, and contributing their Jewish voices and activism to our broader world.
I look forward to continuing the conversation with you, and in that spirit, I'm launching a biweekly communication, "A Message from Marc." Every two weeks, I'll discuss CJP's work and that of our outstanding community partners, reflect on significant events, celebrate CJP's mission, and the powerful vision and values that define our unique Greater Boston Jewish community. You can sign up to receive my messages here.
This week, I was honored to join over 400 members of our community for our From Strength to Strength event, a night for gratitude for all of the professionals and volunteers whose dedication and hard work made our 2017-2018 year so successful. It was also an opportunity for me to share my vision of what I called "covenantal community" and to reflect on three themes: inclusivity, unity, and purpose.
Below is the video of my remarks. The full text is available here.
As I embark on this journey with all of you, I look forward to the conversations — one-on-one and community-wide — about what matters most to you and to all of us. These emails will be one of the ways for me to begin this conversation — please sign up here if you would like to receive them every two weeks.
Thank you, in advance, for the many ways that you share your voices, perspectives, and passions with me and with one another.
If you have thoughts or comments, please email me. I look forward to hearing from you and sharing our thoughts in the coming weeks and months.
Shabbat Shalom,
Rabbi Marc Baker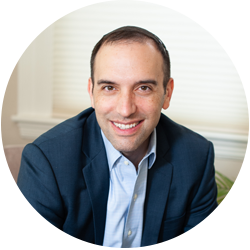 About the Author
CJP President and CEO Rabbi Marc Baker is an educator, writer, and leadership mentor who is devoting his life to Jewish learning and building Jewish communities.