Shalom Chaverim (Dear Friends), 
There is something powerful about the rhythm of the Jewish calendar and, as we felt this past week, the rhythm of the calendar of modern Israel. This year's commemorations and celebrations were different, but COVID-19 did not stop us from coming together to mark Yom HaZikaron (Israel's Memorial Day for fallen soldiers and victims of terror) and Yom Ha'atzmaut (Israel's Independence Day).
On Monday night, I joined hundreds of members of our Israeli community and the Israeli American Council (IAC) for a virtual Yom HaZikaron commemoration. Families and individuals stood in their white shirts for moments of silence, recitations of the traditional memorial prayers, and the singing of Hatikva (Israel's national anthem). 
Just one day later, more than 1,000 members of our Greater Boston Jewish community gathered virtually to celebrate Yom Ha'atzmaut with Israeli leaders and musicians.
Afterwards, many of us joined tens of thousands of Jews around the country for a meaningful and fun-filled celebration hosted by Jewish Federations of North America (JFNA).
Each of these days is powerful in its own right, but there are few moments on the Jewish calendar as poignant as the transition from the solemnity of the first into the euphoria of the second. Their juxtaposition honors the emotional and existential paradox that is at the heart of the story of the Jewish People and the human experience. Freedom, the saying goes, is not free, and the blessings and joys of independence should remind us of the sacrifices, challenges, and losses we have suffered along the way. We can't experience life's heights without also experiencing its depths.
At the same time, it is precisely in our moments of darkness, even despair, that we remember and bear witness to "hatikva bat shnot alpayim," to the hope that has kept our people alive for thousands of years. It is captured in the phrase that we say at the end of the Passover seder: "L'shana haba'ah b'Yerushalayim," which means Next year in Jerusalem.
For most of Jewish history this phrase was not literal, as we could not simply board a plane and visit a thriving, modern Jewish democracy in our historic homeland. Instead, it was a mantra of hope, a statement of our eternal belief in a better tomorrow.
Earlier this week one of my colleagues noted that these days also illustrate the intertwining of the collective and the individual. On one hand, when the Yom HaZikaron siren blasts and everyone in Israel, including drivers on the highways, stops and stands in silence, you know that you are part of something much larger than yourself.
There is a collective consciousness and national experience that binds Israelis in ways that the exodus from Egypt, or more recently, the Holocaust, binds together the Jewish People. Yet, because Israel is such a small, young country, the loss and sadness of Memorial Day is intensely personal for almost everyone. Everyone has a unique story to tell. 
My colleague's observation reminded me of a quote from Rabbi David Hartman: "Judaism is unique," he writes, "in that rather than beginning with a leap of faith, it demands a leap of identification with a people and its history."
This is true not only about Israel but also about Jewish communities around the world, and ours here in Greater Boston. In many ways, this phrase, "leap of identification," could be a tagline for CJP. It beautifully captures why we exist and the sense of community that we aspire to help build.
Today, as I think about the ways that our community is facing and fighting this crisis, I think about the founding of CJP, before it was even called CJP, as the first federation in the United States 125 years ago. In the face of our greatest challenges — whether as a vulnerable community of immigrants and refugees or as a thriving center of 21st century Jewish life facing an unprecedented global health pandemic — we know that that we are not alone and that we are in this together.
The Jewish value of kol Yisrael arevim zeh l'zeh (all of Israel is bound up with, and collectively responsible, for one another) is at once a spiritual and existential statement, an ethical mandate, and a practical prescription. When we take that leap of identification, we feel connected to a larger story and a greater whole; we must care for one another; and we will, in fact, achieve more, and make a bigger difference.
Shabbat Shalom, 
Rabbi Marc Baker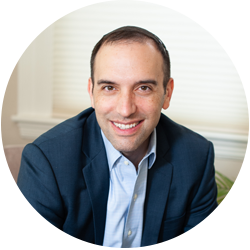 About the Author
CJP President and CEO Rabbi Marc Baker is an educator, writer, and leadership mentor who is devoting his life to Jewish learning and building Jewish communities.