Shalom Chaverim, 
Earlier this week, I attended CJP's annual Lion of Judah Luncheon, an opportunity to celebrate the generosity, dedication, and leadership of hundreds of women in our community. The people and the energy at the event were great, but what stood out most to me was the content. 
After several inspiring speeches from the event's co-chairs and CJP leaders, keynote speaker Julie Cohen, documentary filmmaker and co-director of the award-winning documentary RBG, talked about the making of the film and the life of Supreme Court Justice Ruth Bader Ginsburg. 
 
She regaled the room with touching and humorous stories about Justice Ginsburg, and the life lessons that we can glean from how she has lived, served, and continues to lead. I'd like to share two of the lessons that really moved me, especially considering this week's Torah portion.
 
The first lesson was about love. The film reflects on Justice Ginsburg's 56-year marriage to her husband, Martin Ginsburg. Cohen described the look in her eyes as she watched the videos of her husband in the film for the first time. 
"Doing good and doing justice are incredibly important," Cohen said, "but love is everything." 
It is so tempting to focus on a person's character and individual achievements, especially when she is as extraordinary as Justice Ginsburg and changes the course of history as she has. And, according to Cohen, a huge part of her story is the foundation of relationship and love that served as the foundation from which she was able to have such a tremendous impact. 
This Shabbat, Jews around the world will read, teach, and learn about Abraham, the founder and forefather of the Jewish people. There are so many ways to interpret his story and his life. When I heard the description of Justice Ginsburg's marriage, I suddenly realized how little I've focused on the fact that, even before we learn about Abraham's life-changing "calling" from God, we learn that he set out on the journey together with his wife and life-partner, Sarai (her name had not been changed to Sarah yet). 
Commentaries abound about Sarah and her character. Especially as modern readers, we have learned not to overlook the powerful, though too often uncredited and unseen, stories of women in the Bible and Jewish history. At the same time, I don't think I've stopped to think enough about Abraham and Sarah's relationship. 
I have thought about their love of the stranger and of humanity; but, not thought enough about their love for each other. The first Jews took the first Jewish journey, walked through the world and changed the course of Jewish history together. 
The second lesson is about dissent. Toward the end of her talk, Cohen cleverly connected Justice Ginsburg's life and leadership to the behavior of lions (in the spirit of the Lion of Judah event). Justice Ginsburg has a quiet demeanor, she explained, "but she can roar in dissent when necessary." 
As co-director Betsy West described in an interview, "Certainly, with the Supreme Court, there's a lot of consensus. But on some of the more ideological cases, she's writing in dissent and yet she keeps going. She is determined to fight the fight and just have faith and confidence and keep going."
Roaring in dissent is a hallmark of Ruth Bader Ginsburg's life and one of the mantras of the Jewish people.
Abraham is an iconoclast who smashes idols in the name of one God, risking his life for what he believes is right and true. Several chapters later, he argues passionately with that same God about the destruction of Sodom and Gemorrah based on what he believes is fair and just. He sees injustice and raises his voice, even when that means dissenting against the Ultimate Chief Justice. 
Remember that love is everything, and to roar in dissent. These are the two lessons and powerful reminders from Justice Ginsburg, Abraham, and Sarah, three Jews who have changed the course of history. 
Shabbat Shalom, 
Rabbi Marc Baker
Sign up today to receive my biweekly messages!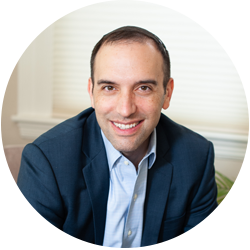 About the Author
CJP President and CEO Rabbi Marc Baker is an educator, writer, and leadership mentor who is devoting his life to Jewish learning and building Jewish communities.