Dear Friends,
This morning, many in our community came together for a virtual gathering for Israel that featured words, song, and prayer. We heard words from the head and words from the heart; words of solidarity and words of compassion; words of grief and words of hope. I am grateful to all of the leaders, politicians, and friends who continue to support and stand with Israel during this incredibly challenging time.
These words just begin to capture the range of emotions that so many of us are feeling right now. Our ability to hold all these words and all of these emotions is what makes this community so unique and so extraordinary.
On the most essential level, this is a moment for our community to show unwavering support for Israel. At the same time, because of Israel's extraordinary beauty and complexity, there are real differences in how each of us experience this moment and how we express our love and support. Especially during times of crisis, we need to be open to those differences and to be compassionate toward one another.
This week's release of the Pew Research Center study on Jewish Americans in 2020 revealed growing political and religious divergence and polarization within the Jewish community — a reflection of our larger American society. This means that, for many, it is likely getting even harder to stick with "big tent" community for the sake of a greater good. If we believe in that greater good, in the strength of our diversity, and in unity without uniformity, we've got more work to do.
In just a few days we will observe the holiday of Shavuot, which commemorates the receiving of the Torah at Mount Sinai. According to Jewish tradition, the revelation at Sinai was a moment of profound unity for the Israelites, who were "like one person, with one heart." That level of connection and commitment to one another was a precursor to accepting the ethical and spiritual responsibilities that our covenant entails.
This certainly does not mean that we always agree. On the contrary, our "one heart" is expansive and strong enough to contain the different perspectives, experiences, identities, and competing interpretations of how to live out those ethical and spiritual responsibilities. It means that we stay in this together and, when times are most difficult, we're not going anywhere. This is precisely what gives me the hope and the strength to keep working to heal Israel and this broken world.
Praying for peace and calm, and wishing us all a Shabbat Shalom and a happy Shavuot,
Rabbi Marc Baker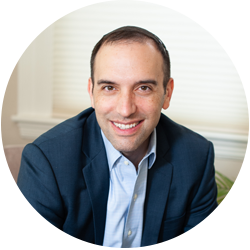 About the Author
CJP President and CEO Rabbi Marc Baker is an educator, writer, and leadership mentor who is devoting his life to Jewish learning and building Jewish communities.