Shalom Chaverim, 
Over the past couple of weeks, as summer has been winding down, I have had the privilege of seeing the next generation in action. 
I attended the "Welcome Home" celebration of the Lappin Foundation's Youth-to-Israel (Y2I) program, which sent more than 100 teenagers from approximately 35 different cities and towns around Greater Boston to Israel for a transformative learning experience. Thanks to the vision and passion of its founder, Robert I. Lappin, the Foundation has been sending teens to Israel for almost 40 years and plays a critical role transmitting Jewish identity, values, culture, and identity.  
One teen shared, "I didn't really know what it meant for me to be Jewish and now I have a much deeper sense of and pride in who I am." Another, one of the award recipients and a Y2I alumnus, described the Israel Club he created in his public high school, as a space for students to learn about and proudly support Israel. The event illustrated not only how transformational an Israel experience can be, but also was a glimpse into a new generation's growing sense of responsibility for the Jewish future. 
Just a few days later, I had the privilege of attending an event with young adults who traveled in the other direction, from Israel to Boston, for their transformational experience. I attend the closing ceremony of an inspiring organization founded by a visionary and entrepreneurial young Israeli, Ohad Elhelo, while he was living and studying here. The organization, Our Generation Speaks (OGS), is a social start-up incubator program that brings emerging Israeli and Palestinian leaders to Boston for three months to develop business ideas that will improve the region socially and economically. The program also develops leaders who, through learning and working together, come to believe that a better future for Israelis and Palestinians, and the Middle East is possible. Bridging the divides between them here in Boston plants seeds for the kind of change they will aspire to make when they get home. 
The program director, a Palestinian lawyer and entrepreneur, delivered a powerful charge: "Imagination," she said, "can give us hope. Because looking back and being stuck in our pain isn't going to change anything. . . It's on us now to shape the future. We can do a lot more than we think we can." 
While she was referring to the possibility for these leaders to make progress on the seemingly intractable Israel-Palestinian conflict, her core message was similar to the one I had heard days early from Y2I to our Jewish teenagers: "It's on you now to shape the future." 
I thought immediately of the message that Moses delivered over and over again throughout the book of Deuteronomy, which we are halfway through in the Torah reading cycle as we near the completion of the Five Books during the upcoming holiday season. Moses addresses the next generation 40 years after the exodus from Egypt as they stand on the banks of the Jordan River and prepare to cross over into an uncertain future in an unknown land. Would they remember where they came from and how they got there? Would they move forward with fear and self-limiting thoughts, or with imagination and hope? 
One of the most poignant and recurring themes and phrases throughout Moses' last speeches reveals the anxiety of anyone striving to transmit cultural heritage, personal identity, and ethical responsibility to a new generation: "Remember, do not forget." 
Thousands of years ago, Moses knew that intergenerational loss of memory and identity are part of human nature, but not inevitable. It is on every generation of parents, teachers, and leaders to transmit a depth of knowledge, connection, joy, love, hope, and sense of responsibility to those who come after them. And, it is on the next generation to remember in order to imagine a better future —remember where we come from, why we have come this far, what values and aspirations we are called upon to preserve and live out. It is on every generation to speak, act, and lead. 
Seeing our generation this summer gave me hope that our future is in good hands. 
Shabbat Shalom, 
Rabbi Marc Baker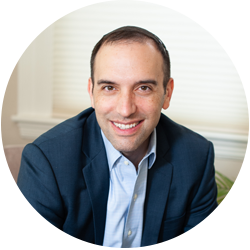 About the Author
CJP President and CEO Rabbi Marc Baker is an educator, writer, and leadership mentor who is devoting his life to Jewish learning and building Jewish communities.