Shalom Chaverim,
Last week more than 100 people representing Jewish organizations from across Greater Boston gathered in the beautiful social hall of Congregation Kehillath Israel in Brookline for the second LEAP (Leveraging Expertise to Advance Partners) session. LEAP was developed in direct response to one of the pain points that we heard repeatedly during The 360Five Listening Tour last year: many organizations and individuals are struggling to find and connect to one another. They're also finding it challenging to access the knowledge, skills, and human capital that they need in order to be successful. 
During the session, keynote speaker and CJP Board member Ed Shapiro shared principles of practice that he learned from leading large-scale mergers and collaborations in the corporate world. Participants also heard from leaders of different organizations about partnerships and collaborations that are helping them more effectively achieve their missions and better serve their communities. 
While the content of this session focused on how we can be stronger together, the medium of LEAP is also the message. The energy in the room was palpable and you could feel the desire — from both professionals and volunteers — to come together, learn from one another, and know that no one is in it alone. 
The spirit of coming together continued this week as we launched Conversations for Action, which I think of as "Listening Tour 2.0." We held two sessions with more than 120 participants. During this six-month process, we will engage our community of communities to dive more deeply into challenges we face and to work together toward actionable solutions. Earlier this week, 70 young adults shared their perspectives on the challenge of inspiring our next generation (their generation). And last night, at the Vilna Shul in downtown Boston, a diverse gathering of passionate individuals wrestled with the question: how can we build more welcoming Jewish communities that engage and include everyone who seeks meaning and connection? I continue to be inspired by people's willingness to make themselves vulnerable and share their own experiences, their openness to listening to the experiences of others, and their commitment to making tangible, positive change.
I am convinced that, especially in our increasingly complex and interconnected world, none of us — individuals or organizations — can afford to go it alone. From a practical perspective, the challenges we face are too complex for any one of us to solve. They will require collective solutions. From a more human or emotional perspective, in a world that can feel increasingly polarized, in which so many individuals are feeling disconnected and isolated, and when the magnitude of social problems can feel overwhelming, we need to find ways to come together, to connect with one another, to learn, and to act. 
I am reminded of the words of the Book of Ecclesiastes: 
Two are better off than one, in that they have greater benefit from their toil. For should they fall, one can raise the other; but woe betide him who is alone and falls with no companion to raise him! Further, when two lie together they are warm; but how can he who is alone get warm? Also, if one attacks, two can stand up to him. A threefold cord is not readily broken.
Ecclesiastes teaches that we can achieve more together, while it also warns of the pitfalls of going it alone. I love the metaphor of the threefold cord (in Hebrew: hachut hameshulash). A relationship requires only two, so what does the third strand represent? Perhaps it is literally a third person: a crowd is stronger than a pair. Perhaps it reflects the power of partnership: one plus one equals three.
Or maybe the third strand alludes to the notion that we have come together in service of something larger than ourselves, for purposes greater than our survival or even the alleviation of loneliness. 
Building communities of learning and action means connecting both with one another and with shared purpose, values, aspirations, and ideals. When we bind together, even pulling on the strands of a braid makes the knot tighter. I want to be part of communities where our differences strengthen us rather than tear us apart, and where the challenges we face deepen our relationships because we face them together.
Shabbat Shalom,
Rabbi Marc Baker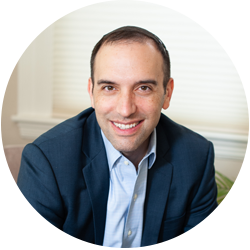 About the Author
CJP President and CEO Rabbi Marc Baker is an educator, writer, and leadership mentor who is devoting his life to Jewish learning and building Jewish communities.