Dear Friends,
Tomorrow night, the holiday of Passover begins with the annual Passover Seder, perhaps the most observed Jewish practice in the world by Jews of every background and identity. Our holiday of freedom and redemption comes amidst clouds of darkness in our world, including the horrific war in Ukraine and the recent wave of terror in Israel.
 
Last Sunday, speaking at a rally for Ukraine organized by the local Jewish and Ukrainian communities, I shared a quote about Passover from the late Rabbi Jonathan Sacks (z"l). His words are poignant and frighteningly relevant:
"The Exodus is the inexhaustible source of inspiration to all those who long for freedom. It taught that right was sovereign over might; that freedom and justice must belong to all, not some; that, under God, all human beings are equal... It took many centuries for this vision to become the shared property of liberal democracies of the West; and there is no guarantee that it will remain so. Freedom is a moral achievement, and without a constant effort of education it atrophies and must be fought for again. [On Passover we see how]... the Jewish people became the guardians of a vision through which, ultimately, 'all the nations of the earth will be blessed.'"
There is, indeed, no guarantee that freedom and democracy will stand the test of time. The Jewish People know as well as anyone that it can happen again. As we recite or sing at the Seder, in every generation there will be those who rise up and try to destroy us.
We cannot stand by and wait for the sea to part. Instead, we need to use our God-given freedom to take responsibility for others and our world, to fight in whatever ways we can so no one, ever again, needs to suffer what we have throughout our history.
This is the calling of our particular people, bound up by what Rabbi Joseph Soloveitchik called a shared fate and a shared destiny. Our Jewish story demands of us that we feel the pain of Jews' suffering anywhere in the world, and we do everything in our power to ensure that no Jew, anywhere in the world, goes to bed hungry — or sleeps in a bomb shelter — at night.
And ours is also a universal, human story. We see this so powerfully right now through the humanitarian aid that we are helping to provide to our brothers and sisters in Dnipro, Ukraine. The Jewish community there is providing food, shelter, and medical assistance to refugees from across Ukraine.
We recently received this note of appreciation from a Ukrainian refugee: "We were welcomed here [in Dnipro] like royalty. We were brought to the Golden Rose synagogue, where they immediately fed us... Everyone is fed and saved here, not only Jews. This is just a miracle."
All the nations of the earth will be blessed.
I am inspired by the strength and resiliency of the Ukrainian people who are fighting for their lives and their country. And I am inspired by the thousands of people across our community who give so generously, and who show up and step up day after day.
As Rabbi Sacks says, freedom, dignity, and justice are moral achievements that require constant effort. Together, we can continue to create miracles.
Shabbat Shalom and Chag Sameach (Happy Passover),
Rabbi Marc Baker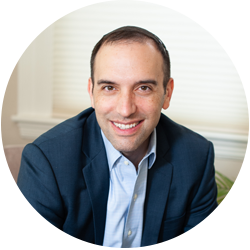 About the Author
CJP President and CEO Rabbi Marc Baker is an educator, writer, and leadership mentor who is devoting his life to Jewish learning and building Jewish communities.