Dear Friends,
  
We are heading into the Fourth of July weekend with so many reminders of the brokenness of our country and our world. This year, as we celebrate the birth of this nation and the anniversary of our freedom and independence, we also see examples of the fragility of our democracy, the fraying of our social fabric, and the culture wars that threaten the very notions of a common good and "one out of many."
  
At the same time, I find myself writing on the final day of CJP's 127th Annual Campaign, our collective effort to raise critical funds to help power our community next year. This Campaign is not just about dollars raised. It is about the strength of community and the act of giving as a deeply human and Jewish endeavor. It is a powerful reminder that, even in a world of individualism, cynicism, and disconnection, the value of tzedakah — the sense of obligation to give in service of the common good and those who are less fortunate than we are — remains a defining feature of Jewish identity and Jewish life in the 21st century.
  
A generous, long-time CJP supporter recently shared with me that his trust in our work is in part because he believes that the response to global problems begins at home. Especially in the face of this great brokenness, supporting a strong, values-driven community is a form of moral, spiritual, and political activism, a first step to creating tikkun, healing and repair, for our broader society and the world. We build community by showing up for one another and through our collective generosity — of philanthropic resources, time, energy, passion, and spirit. Every single person who has given to this Campaign and to our community plays a vital role in this sacred work. I am incredibly grateful. It is an extraordinary privilege and a great joy to be part of this with all of you.
  
Today also happens to be Rosh Chodesh Tammuz, the first day of a new Jewish month. The Jewish relationship with time is one of wonder and appreciation for the miracles of creation and renewal. We celebrate possibility, growth, and positive change — the world does not have to be the same tomorrow as it is today. Each of us, created in the Divine Image, has the opportunity and responsibility to transform our world for the good.
  
This is one of the great claims of Judaism and other spiritual traditions, and one of the beautiful paradoxes at the heart of the human condition: We are all interconnected parts of the natural world, and we are also active co-creators of this world of which we are a part. As we celebrate our national freedom and independence this weekend, let us remember that in a healthy democracy and just society, freedom from tyranny and oppression goes together with the moral and spiritual imperatives to use that freedom, and our God-given creative capacities, to improve ourselves, help others, and build a better world.
  
Shabbat Shalom and Happy Fourth of July,
Rabbi Marc Baker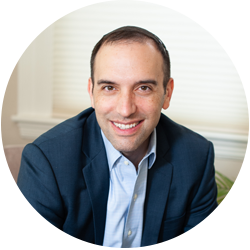 About the Author
CJP President and CEO Rabbi Marc Baker is an educator, writer, and leadership mentor who is devoting his life to Jewish learning and building Jewish communities.